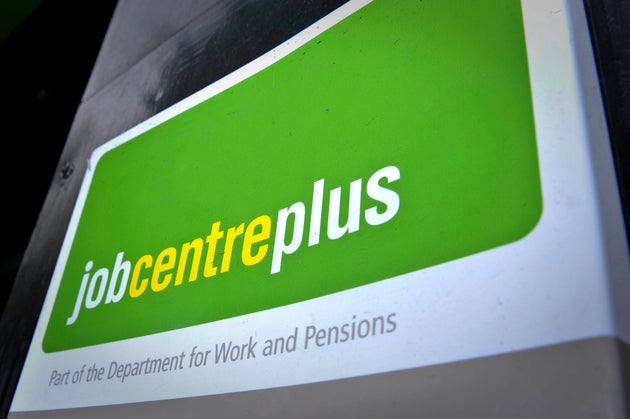 Single parents are more likely to have their benefits unfairly withdrawn than any other type of claimant, new research reveals today.
Gingerbread, the single parents charity, found those bringing up children by themselves were more likely to successfully appeal against so-called "sanctions".
The charity's analysis of latest Department for Work and Pensions (DWP) data, seen first by HuffPost UK and BBC Radio 5 Live, shows 62% of single parent sanctions were overturned when formally challenged, compared with 55% for other claimants.
One single mother on Universal Credit told HuffPost she was forced to choose between food, gas and electric after being sanctioned for three whole months last year.
Mum-of-one Sara* said: "When I saw the sanction in my online journal I just wanted to cry. I couldn't believe it.
"It came after I told my Jobcentre work coach I was going to go part time to cut down on childcare costs. At the time they agreed this was sensible, but suddenly after nine months things changed.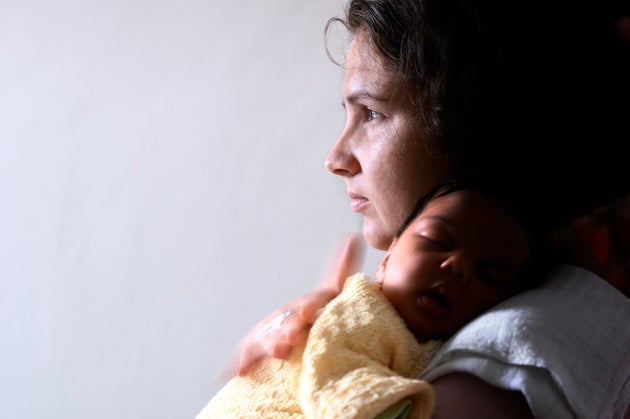 "Working part time meant I could be there for my daughter when she finishes primary school each day. I don't have family or friends to rely on so I felt I didn't have a choice. I thought it was best to do what worked for me."
[READ MORE: I'm a single mother and Universal Credit has only made life harder]
Universal Credit replaces six benefits, including working tax credits, and the mother said her sanction was the equivalent to £500 over four weeks. "Anyone would notice if they suddenly had £500 less a month," she said.
Sara, 38, who lives in the south-east of England and has a ten-year-old daughter, added: "The whole system is wrong, and I just feel so defeated.
"I don't want to keep saying 'I'm a single parent' but when I was told we are more likely to be unfairly sanctioned it all made sense. It's horrible."
Gingerbread also found that sanctions, sometimes described as being a measure of last resort, are often the reason single parents feel most dissuaded from working at all.
It also highlights how a "tick box" approach to satisfying job-seeking rules does not reflect the reality of bringing up children alone.
Currently, single parents are required to display full job-seeking requirements after their youngest child turns three.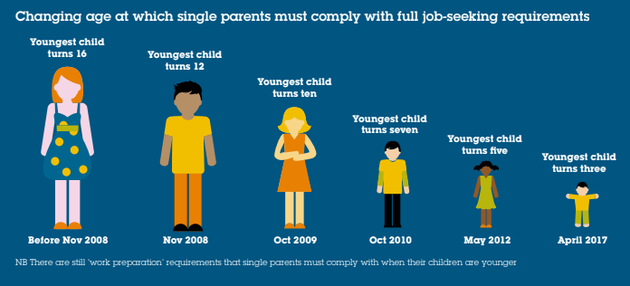 This includes "doing all [they] can" to search for work. And while the DWP says a person's Jobcentre advisor - dubbed a work coach - should be "reasonable" when it comes to factoring in parental responsibilities, some claimants say this does not always happen.
Campaigners have raised fears that the situation is likely to worsen as more and more single parent families sign up to Universal Credit, which is due to roll out across the UK by 2022.
Gingerbread's research explored sanctions applied to claimants on Job Seeker's Allowance and Universal Credit between October 2012 and June 2017, the latest month for which fully comparable figures are available.
The charity's Sumi Rabindrakuma said: "We've been looking at the issue of unfair sanctions for some time.
"It is worrying to see the beginning of the impact Universal Credit is beginning to have.
"The increase in work requirements that Universal Credit has introduced combined with sanctions is causing single parents to feel frustrated and fed up.
"We know single parents do want to work but some need training and support to get to that position. It is disappointed to see that this isn't always happening.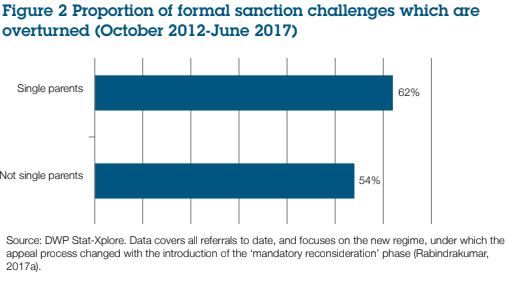 "When you listen to the government's line on sanctions it all seems very reasonable. Claimants themselves understand the rationale for sanctions.
"But what doesn't bear out is what lies beneath this policy, which is a tick-box approach that doesn't reflect the reality of job seeking for single parents.
"There's a gap between the government's explanation and the reality for people affected."
A DWP spokesperson said: "We understand lone parents often need extra support which is why their work coach will tailor requirements so that they are realistic, taking account of their personal circumstances and child care responsibilities.
"But it is reasonable that people have to meet certain requirements in return for a benefit payment and sanctions are only used in a small minority of cases when people don't have a good reason for not doing what they agreed to.
"It's clear that the government's welfare reforms are helping families, with historic levels of employment and one million fewer people living in absolute poverty compared to 2010, including 300,000 children."
Do you have an experience relating to this story? Have we missed something out? Use this form, email George.Bowden@huffpost.com or WhatsApp +44 78968 04043.
*Sara is a pseudonym.
Source: huffingtonpost