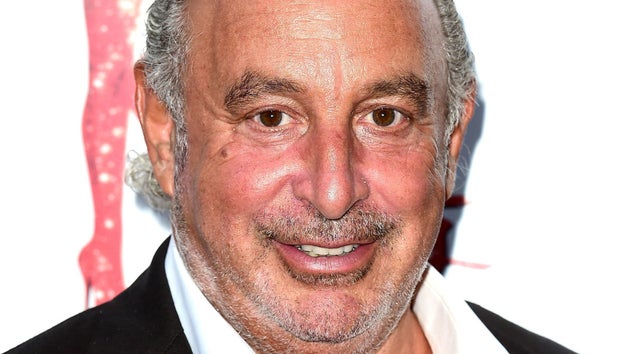 Allegations of widespread misconduct by Topshop tycoon Sir Philip Green have been published in full for the first time following the end of a high-profile legal battle.
A lengthy investigation in the Daily Telegraph, published online on Friday evening, revealed a number of allegations of impropriety by the boss of the Arcadia fashion empire.
The newspaper said it spoke to "dozens" of alleged victims and witnesses to Green's alleged conduct, which it said included groping and the use of racial slurs.
Green's lawyers have said: "Sir Philip categorically denies any unlawful racist or sexual behaviour."
The Telegraph investigation alleged that Green:
Paid a senior female Arcadia executive £1 million to stay silent about an incident in which he groped her and called her a "naughty girl";
Placed another senior female executive in a headlock during a press event;
Ridiculed a black employee for his dreadlocks, asking "what the **** have you got on your head?", and "assumed" the same staff member smoked cannabis;
And addressed a Chinese businessman with a racial slur he later proudly described as a "nickname".
The Telegraph's article was launched online on the same day Green officially ended his legal fight to stop its publication.
Green initially sought to "gag" the Telegraph with an injunction after the newspaper approached him and his company for comment regarding a series of initial allegations last October.
The Telegraph was prevented from naming Green after a Court of Appeal judgement but the ban was effectively rendered inactive after Lord Peter Hain named him in the House of Lords, using a convention that allows comments made in parliament to be reported by media.
Green's lawyer told the High Court on Friday that going ahead with a trial would have been "worse" than seeing the newspaper story published.
It is unclear how many sources the Telegraph spoke to for its article, though it said the initial allegations against Green came after it interviewed "a dozen" people.
The newspaper said "dozens" more people who have alleged they were "subjected to verbal abuse, bullying and intimidation or witnessed similar incidents" contacted it after Green's identity was revealed.
Lawyers representing Green told the Telegraph that he was a "passionate businessman, who can at times be over-exuberant and hot-headed". They said he can be "perceived at times as aggressive with senior and trusted staff".
They added: "It is further denied that any of Sir Philip's conduct towards employees amounted to any type of crime, or anything that would amount to gross misconduct, or a serious risk to health and safety."
HuffPost UK has contacted Arcadia and Green for further comment.
Source: huffingtonpost