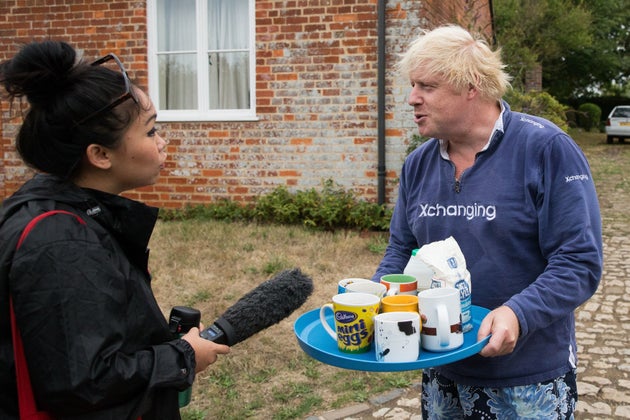 Despite all he has said and done over the decades, there are still many who think Boris Johnson would be a good prime minister. I do not – and consequently have devised a list of reasons why he should never be allowed to take that particular office. I'm sure readers will think of many more.
In my opinion there is no good reason why such a toxic figure should be prime minister, except that his party is in meltdown (over the Brexit he pushed for), and the hard-right is desperate to push an extreme Brexit – whatever the cost.
Johnson has been a favourite of some on the right of the Tory Party for some time. His seemingly vacuous Worzel Gummidge antics are catnip to normally prim Aunt Sallies at the wooden Conservative Party Conference. But there are those to the right of most Conservatives who would like to see him in power, as we have seen by the hordes of far-right fans flocking to his Facebook page. Recent comments about Muslim women have acted as a dog whistle to such people.
We cannot allow our country to be shaped by those who exploit or are easily taken in by linguistic catnip and dog whistle politics. So here are some key reasons why Boris Johnson should NEVER be prime minister:
Dishonesty
In 2004 Johnson was sacked by party leader Michael Howard for lying about an affair. We all know about the pre-referendum claims about vast amounts of money going to the NHS after Brexit, when the more likely outcome is actually stretched services and haemorrhaging clinicians. But Johnson had already proved himself to be something of a reprobate before becoming an MP. He was sacked from The Times for falsifying quotes and, as a journalist, told a friend plotting to get a journalist beaten up that he would provide the intended victim's address.
Dangerous irresponsibility
One of the freshest examples of Johnson's dangerous irresponsibility is from last year, when he told the Foreign Affairs Select Committee that Nazanin Zaghari-Ratcliffe (a UK citizen and mum serving a five-year jail sentence in Iran, after being detained on holiday and accused of espionage) had been "simply teaching people journalism". In a state that jails more journalists than most other countries this was a dangerous and idiotic claim. Johnson's words caused the regime to add a charge of propaganda against the state, which risked her sentence being doubled. After much criticism, Johnson still wouldn't take responsibility. This week it was reported that she has been granted a short, temporary release to see her family, but her nightmare is far from over.
Racist comments
Writing in The Telegraph in 2002, the lovely fluffy 'Boris' described black people in Africa as "piccaninnies" with "watermelon smiles". In 2006, while a shadow higher education minister, he trumped even that grotesque depiction by flippantly referring to people in Papua New Guinea as cannibals, when making a point about British politics.
After years of Donald Trump spreading falsehoods about the nationality of Barack Obama, Johnson, in 2016, called the president "part-Kenyan" with an "ancestral dislike of the British empire". He said this in a Sun article after Obama expressed the view that the UK would be better off staying in the EU.
Racist poem
In his short time as foreign secretary, Johnson's most notable overseas trip was the one in which the British ambassador, at a temple in Myanmar, had to tell him to refrain from reciting the colonialist-era Rudyard Kipling's poem The Road to Mandalay. Before Johnson reluctantly stopped, he was approaching a line which refers to the Buddha as a "Bloomin' idol made o' mud".
Fuelling cultural tension
Recently Johnson has gained approval across the far-right by suggesting some Muslim women look like bank robbers and letter boxes. In the best tradition of dishonest journalism, he claimed to be on their side – but the dog whistle could be heard by the far-right and Islamophobes in the US and beyond. Steven Bannon, the white nationalist behind Cambridge Analytica and former executive chairman of 'alt-right' Breitbart, is one of the few public figures who defended Johnson after those comments.
Career before conscience
The examples above illustrate this point, but his working life – as both a journalist and politician – has been characterised by career and ego coming before ethics, decency or the good of the country. He has been characterised as "a nasty piece of work" and his former boss Max Hastings recently said he is devoid of scruples and a conscience. With such doubts from those who know him, and growing support from the far-right, it is clear we would be foolish to put trust in him. The last thing this country needs is a pound shop Donald Trump.
Source: huffingtonpost