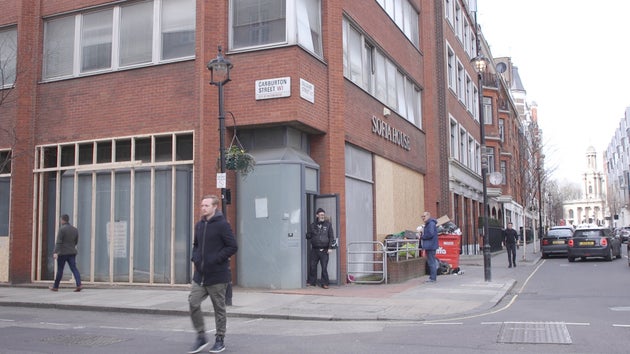 Rough sleepers who have taken refuge in a disused central London building for the past two weeks face uncertain futures after a court approved their immediate eviction.
Activists from Street Kitchen set-up a make-shift shelter in the four-story Sofia House on Great Portland Street on March 1, aptly dubbing it the 'Sofia Solidarity Centre' (SCC), and over the following days claimed up to 200 rough sleepers a night called it "home", as freezing conditions blanketed the city in snow.
On Wednesday, at the London County Court, Judge Saunders granted the building's owner, W1 Developments, a summary application for possession "forthwith", during a hearing scheduled for 15-minutes that lasted over four hours.
A draft order, immediately tendered by barrister Jonathan Chew to give the company the legal right to enforce the ruling, was set to be approved tonight. It means the rough sleepers could be evicted at any time.
Chew told HuffPost UK he was unable to comment on when the order would be executed as his "job" was now complete.
Michael Cooper, who spoke as a named party representing the SCC, pleaded for leeway and clarity from Chew's legal team as the judge exited to his chamber, but also left the court uncertain as to when the eviction would occur.
However, he did not think it would happen immediately.
Cooper declined to comment on the decision to HuffPost. He said only that he needed to notify the several dozen rough sleepers who didn't, as planned, march to the court from Sofia House, Fitzrovia, thirty minutes walk away, of the decision. The group would then collectively decide what to do next, he said.
HuffPost was told by SCC volunteers before the hearing that the group may attempt to occupy another building if the possession order was granted.
SCC's argument to remain in the building, tendered and translated into legalese by Cooper's lay representative, paralegal Andrew Marlow, centred around an oral "licence" it believed it was granted to stay there until the weather improved.
The court, housed within the Royal Courts of Justice, was told that Street Kitchen activists negotiated the terms with Mario Escobar, the building's handyman, which they recorded.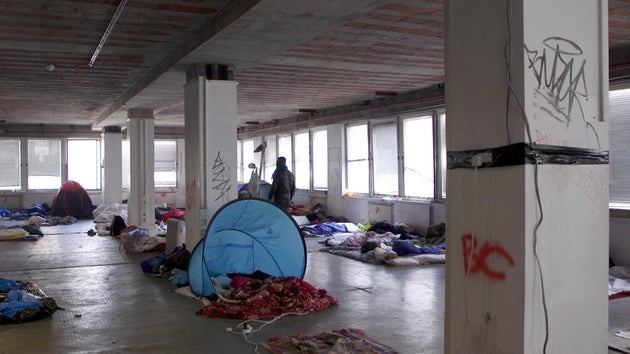 Escobar was put in a "difficult position", the court heard, and had agreed to allow the group to stay over the weekend, ending March 4, despite being concerned he might "lose my job because I am nice to you".
Escobar also told SCC activists he did not want to return on Monday, March 5, to see 70-80 people on the premises, the court heard.
Chew argued, "as a matter of law", Escobar had no authority to make binding decisions on behalf of W1 Developments - therefore the licence was invalid.
He asserted further that had that licence been valid, SCC breached the terms of it by allowing up to 200 people to stay per night.
SCC attempted to have the case adjourned so Escobar's "authority" to make decisions could be determined. But Judge Saunders denied the request, saying the case was too "important" not to resolve today.
Marlow also argued that "various time periods" were discussed with Escobar and that the agreement reached was that SCC could stay until "the cold weather goes". Given conditions are expected to plummet below zero again this weekend, he contended the agreement was still in play.
Speaking to Escobar's limit on occupants, Cooper admitted to the court that SCC had inflated numbers. A more accurate assessment was 50, he said.
"In these circumstances propaganda and media coverage is a huge part of it... we might have exaggerated numbers... if we'd said, '40-50 people' it's not quite as good," Cooper said.
Earlier in the day, SCC volunteers told HuffPost that it housed 166 rough sleepers overnight, boasting that it was the "biggest" and "fastest growing" homeless shelter in London with people now bedding down across three floors.
An achievement, one volunteer said, given it "started with just four chairs, one table, a heater, a couple of phones and a few brain cells".
Another pillar of SCC's argument in court on Wednesday was the impact the eviction would have on the rough sleepers occupying the building and their rights under the European Convention on Human Rights to life, a home, assembly and protest.
Evicting them, Marlow said, would be forcing them to continue their protest - which is over the number of vacant buildings in the capital and rising homelessness - on the street where they would be "exposed to the risk of illness, even death".
The building, he said, was the perfect place to make their point given it had been vacant for five years and urged the judge to "prioritise" the rough sleepers' right to freedom of expression over private property rights.
Marlow said SCC was not seeking "indefinite occupation" of the building, but added: "To bring to an end the occupancy and demonstration today is to return people to a risk of death on the streets."
Chew, earlier in his submissions, said bluntly: "There is no arguable defence on human rights grounds."
In delivering his determination Judge Saunders told the court that "no one can deny the issue of homelessness needs to be taken seriously", but concluded SCC did not have the right to occupy a private building.
Cooper, in a last ditch appeal, told Judge Saunders that evictions could be "sudden and traumatic" but was cut short by the judge said he had reached his decision.
Source: huffingtonpost