A plane was forced to make an emergency landing in Philadelphia, US, after its engine exploded as one passenger was killed and another one was nearly sucked out a window.
Southwest Airlines and American officials confirmed engine failure sent a piece of shrapnel flying back into a window and shattering the glass.
This caused a woman sitting next to the window to be almost pulled out of the plane as the cabin depressurised, according to witness accounts and local news media reports.
The fatality was the first in a US commercial aviation accident since 2009, according to the National Transportation Safety Board.
One passenger was taken to the hospital in critical condition, and seven other people were treated for minor injuries at the scene, said Philadelphia Fire Department. It could not confirm how the passenger in critical condition sustained her injuries.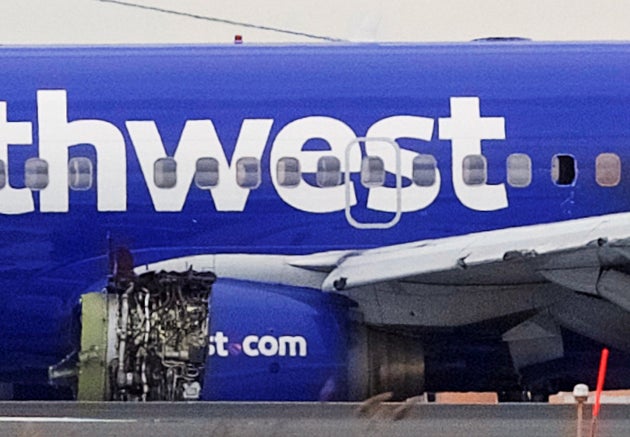 Flight 1380 had 144 passengers and five crew members on board.
The Dallas-bound Southwest Airlines flight, which had taken off from New York City's LaGuardia Airport, made an emergency landing at Philadelphia International Airport.
NBC News obtained audio of the plane's captain, Tammy Jo Shults, telling air traffic controllers: "We have a part of the aircraft missing, so we're going to need to slow down a bit."
Asked by a controller if the jet was on fire, Shults responds it was not but added: "They said there is a hole and someone went out."
Todd Baur, who identified himself as the father of a passenger from the plane, told Philadelphia's NBC-10 television that a woman was pulled back into the aircraft by other passengers.
Passenger Marty Martinez told CBS Philadelphia that the sequence of events after the engine exploded was "terrifying".
"The engine exploded and it broke a window," Martinez said.
"First there was an explosion and almost immediately, the oxygen masks came down and, probably in a matter of 10 seconds, the engine then hit a window and busted it wide open."
Martinez said objects flew out of the hole where the window had exploded, and "passengers right next to her were holding onto (the woman being pulled out). And, meanwhile, there was blood all over this man's hands. He was tending to her".
Passengers posted photos of the damaged plane.
Another passenger on the flight, Kristopher Johnson, described feeling of the aircraft drop to CNN.
"All of a sudden, we heard this loud bang, rattling, it felt like one of the engines went out. The oxygen masks dropped," he said. "It just shredded the left-side engine completely. It was scary."
In a statement, Southwest Airlines said: "We are aware that Southwest flight #1380 from New York La Guardia (LGA) to Dallas Love Field (DAL) has diverted to Philadelphia International Airport (PHL). We are in the process of transporting Customers and Crew into the terminal.
"The aircraft, a Boeing 737-700, has 143 Customers and five Crewmembers onboard. We are in the process of gathering more information. Safety is always our top priority at Southwest Airlines, and we are working diligently to support our Customers and Crews at this time."
The aircraft's maker, Boeing, said on Twitter that it was aware of the incident and was "gathering more information".
Source: huffingtonpost