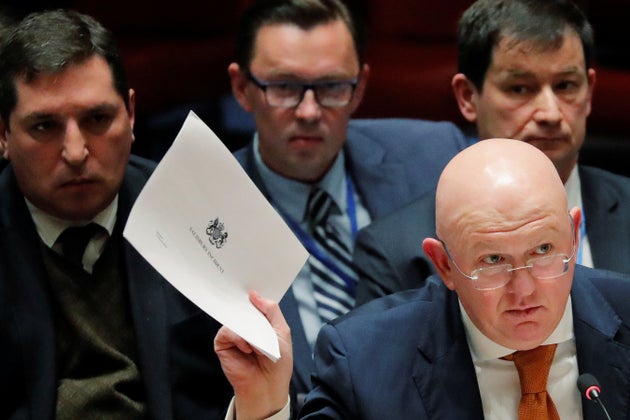 Russia has accused the UK of coming up with a "fake story" and warned "you'll be sorry" over the poisoning of a double agent in Salisbury during an astonishing attack at the United Nations Security Council.
Speaking at a meeting in the New York called by Moscow, Russian UN ambassador Vasily Nebenzya accused Britain of "playing with fire" as he attempted to exploit tensions in the UK over the nerve agent attack.
His bizarre statement also referenced the ITV series Midsomer Murders, blasted Boris Johnson for mis-reading the Russian novel Crime and Punishment and enquired about the health of spy Sergei Skripal's guinea pigs.
He also compared the UK's manipulation of the media to Nazi Germany propaganda chief, Joseph Goebbels.
Skripal and his daughter Yulia were found unconscious on a park bench in Salisbury last month.
Nebenzya labelled the UK's accusations "horrific and unsubstantiated" and damned a "propaganda war" being waged against Russia.
"Couldn't you come up with a better fake story?," he said at the Security Council meeting. "We all know what the worth of British intelligence information is based on the experience of Tony Blair.
"We have told our British colleagues that you're playing with fire and you'll be sorry."
Nebenzya, whose speech was transmitted in English via an interpreter, said: "Everyone who knows crime novels, for example, the Midsomer Murders – a well-known British series – they all know hundreds of very clever ways of killing someone.
"However, those who sought to kill Sergei Skripal and his daughter supposedly chose an extremely toxic chemical substance, the most risky, dangerous method possible.
"At the same they didn't really finish the job because the two individuals seem to be alive and Yulia, thank God, seems to be improving rapidly.
"So in this very complex case there are lots and lots of questions and the further we go the more questions keep cropping up."
Nebenzya mockingly referred to Prime Minister Theresa May and Johnson as "expert chemists", later saying the UK's main argument about the "unquestionable Russian origin" of the Novichok is "no longer valid" following comments from Porton Down's Gary Aitkenhead.
Nebenzya said Novichok is "not copyrighted by Russia, in spite of the obviously Russian name" and said it was developed in "many countries".
He criticised the sources of the British intelligence services, saying reports that Russia had tested Novichok before the attack on everyday objects was "some sort of theatre of the absurd".
Karen Pierce, UK ambassador and permanent representative to the UN in New York, took aim at Russia via a Sherlock Holmes analogy after its failed attempt to have their scientists join the OPCW investigation.
In a briefing to reporters ahead of the UN Security Council meeting, she said: "Allowing Russian scientists into an investigation when they are the most likely perpetrators of the crime in Salisbury would be like Scotland Yard inviting in Professor Moriarty, so I don't think that's a tenable way forward."
Ms Pierce later said she feared the Russians are aiming to "build a narrative of how they won't accept the OPCW results" when they emerge, adding: "We as UK having nothing to hide, we look forward to the report – which will be given to us as the requesting state party.
"We ask what have the Russians got to fear?"
Source: huffingtonpost