Striiv Fusion 2 Tracker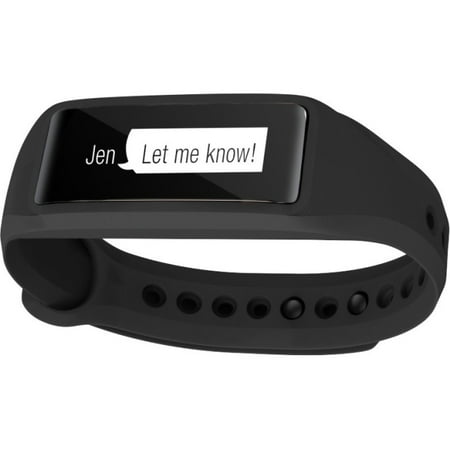 General InformationMonitor your activity goals, every day 24/7 Activity trackingTrack your steps, distance walked, calories burned, and active time Sleep monitorAfter tracking your sleep, use the app to view your sleep quality Stay connected, even while your phone is out of reach Caller ID and text alertsScreen incoming calls and read text messages App notificationsGet notifications from your favorite apps Be on top of your schedule Vibrating alarmsSet vibrating alarms that will alert you without disturbing others Meeting RemindersWrist reminders will nudge you before your next meeting Track your healthy habits Logging and journaling your activity helps to encourage ...
Related Products
$99.95
Fusion is Striiv?s first product that makes fitness and smartwatch technology truly personal. The touchscreen display gives you real-time feedback on your fitness and sleep goals, and helps manage your day with call/text alerts, vibrating alarms, and other smartwatch apps like music control and weather. With three striking colors included in every box, the Fusion looks great - whatever the occasion.
$99.99
Striiv Touch, Black View larger The World?s Sleekest Activity Tracker + Smartwatch. Never miss a step, call or meeting again. Why Buy Striiv Touch? Its slim design fits every wrist. The battery life that lasts up to 5 days. No need for additional downloads- fitness & sleep tracking is built-in. It features ion-hardened glass with silky smooth touch screen interface. It's safe to wear while showering, washing hands, in the rain, and while you sweat. Finally, you'll get access to the Striiv Activity Tracker app to make your steps count towards charity, build a fantasy island, and more. Touch Screen Using the latest in touch screen technology, Striiv Touch allows you to scroll from your activity tracking, to the time of day, to even reading through the day's text messages with the swipe of your finger.Tech Specs Water resistant- ok with shower, bath, rain, & sweat Weight: 14 grams; ½ ounce Screen size: 0.91 x .5 in. Circumference of Large band: 21 cm; 8 in Stores up to 10 days of activity/sleep data ControlsTap activated LED lights give instant feedback on goal progress Bluetooth 4.0 syncs with app seamlessly Sleep tracking with Striiv Touch View larger Sleep Quality Tracking Track your hours slept and times awakened. View your sleep data on daily charts using the Striiv Activity Tracker app available for iOS and Android devices. Calories and step counts View larger 24/7 Activity Tracking Striiv Touch tracks your steps, calories burned, distance, and minutes of activity. Track your activity data using the Striiv Activity Tracker app available for iOS and Android devices. Text message on Striiv Touch from your smart phone Text Message Alerts Real-time text alerts are as close as your wrist. Scroll through new SMS messages quickly and discreetly. Receive ncoming call notifications View larger Incoming Call Notifications Get real-time incoming call notifications right on your Touch without diving for your phone or digging in your purse. Time & date on Striiv Touch View larger Date/Time & Vibration Alarm (Coming Soon) Set silent vibration alarm and wake up to a gentle vibration that won?t disturb your bedmate. Striiv Activity Tracker app for iPhone and Android smart phones View larger Download the Striiv Activity Tracker app View colorful weekly and monthly charts of your activity totals on your Smart Phone. No need to buy a separate app for sleep tracking, Striiv Touch comes with a sleep mode too. Basic Troubleshooting steps The device needs to be charged for at least 45 minutes before using it. Make sure the cable is plugged in completely and the cradle is securely latched. The screen will light up to indicate it is charging. Detailed steps are listed in the Quick Start Guide.Materials Band: Sweat and scratch resistant Elastomer Clasp: Plastic Charging contacts: Brass Screen: Ion hardened Glass Display: OLED System Requirements Android devices (requires Android 4.3 or newer): Galaxy S3, Galaxy Note 2, Nexus 4, Nexus 5, HTC One iOS devices (requires iOS 7.1 or newer): iPhone 4S, iPhone 5, iPhone 5S and newer, iPad 3rd & 4th Gen, iPad 2+, iPad Mini, iPad Mini Retina, iPod 4th & 5th Gen Windows XP & newer (additional accessory required. Visit striiv website for complete information) Mac OS 10.6 & newer (additional accessory required. Visit striiv website for complete information) What?s in the boxBand USB cable Cradle Quickstart guide Sizing guide We have a list of officially supported devices online at http://www.striiv.com/supported-smart-devices-computers/
$32.99
General InformationMonitor your activity goals, every day 24/7 Activity trackingTrack your steps, distance walked, calories burned, and active time Sleep monitorAfter tracking your sleep, use the app to view your sleep quality Stay connected, even while your phone is out of reach Caller ID and text alertsScreen incoming calls and read text messages App notificationsGet notifications from your favorite apps Be on top of your schedule Vibrating alarmsSet vibrating alarms that will alert you without disturbing others Meeting RemindersWrist reminders will nudge you before your next meeting Track your healthy habits Logging and journaling your activity helps to encourage self-monitoring behavior. Be aware of your daily life and start journaling. Did you stick to your diet today? Rather than logging everything you ate for the day, simply log "Yes" or "No" directly on your activity tracker. Track more, worry less Up to 1 month battery lifeTypical smartwatch battery life is only a few days. The Fusion 2 can go up to a month on a single charge Battery life depends on usage Charge with any Micro-USB cablePlug any Micro-USB cable directly into the Fusion 2's USB port to charge. No proprietary charging cradles needed Splash- and sweat-proofWash dishes, sweat at the gym, or get caught in the rain without having to take off your tracker Swappable bandsTracker comes with 3 colored bands Additional Product SpecificationsFull Product Specifications: Click to viewTechnical InformationPlacement: WristSensor Type: AccelerometerFunctions: Sleep MonitorFunctions: AlarmFunctions: Text MessagingFunctions: Music PlayerBody Metrics Measured: Sleep QualityBody Metrics Measured: Calories BurnedBody Metrics Measured: Steps TakenBody Metrics Measured: Distance TraveledDisplay & GraphicsTouchscreen: YesBattery InformationMaximum Battery Run Time: 730.48 HourPhysical CharacteristicsColor: BlackMaterial: PlasticMaterial: Polymer BandMiscellaneousPackage Contents: Fusion 2 Smart Band 3 x Color