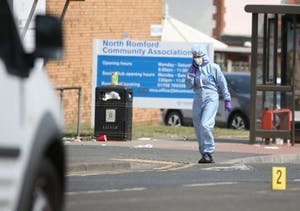 A 16-year-old boy has been charged with the murder of a teenager who was killed outside a birthday party.
The teenager is accused of killing Jordan Douherty, who died when he was beaten and stabbed by more than five attackers near a community centre in Romford on Saturday.
The 15-year-old, who performed drill music under the name Young Valenti, was attacked three times in a matter of seconds amid violent scenes after 200 teenagers had gatecrashed the party and been asked to leave.
Douherty was pronounced dead at the scene by the emergency services.
The 16-year-old – who was arrested at an address in Newham on suspicion of murder – will appear at the Old Bailey on Friday.
Three other males aged between 15 and 17 who were arrested at the scene on suspicion of murder have been released under investigation.
Detective Chief Inspector Larry Smith said: "We believe that this birthday party was advertised on social media, resulting in a large number of people attending. A number of people were escorted out of the community centre and this led to a fight breaking out and tragically Jordan receiving fatal injuries.
"A bus driver who was assaulted, received his injures as a result of refusing to take a number of party goers who wanted to leave the scene."
Chief Superintendent Jason Gwillim said: "My thoughts are with Jordan's family and friends at this devastating time. Our homicide team are carrying out an investigation to catch the people responsible.
"This investigation will take time, there were a large number of people in attendance at this birthday party which sadly led to Jordan's life being cut short in the most tragic of circumstances."
He added that the violence had caused concern not just within the community but with the family and friends of the young people who were there.
He said: "We are continuing to work with our partners and the local authority, and speaking regularly with community leaders to brief them on our response. Violence has no place on our streets and we will continue to use all the resources available to us to tackle anyone carrying a weapon."
Police urged anyone at the party or who witnessed the attack to come forward with any information, pictures or video footage they may have.
Source: huffingtonpost