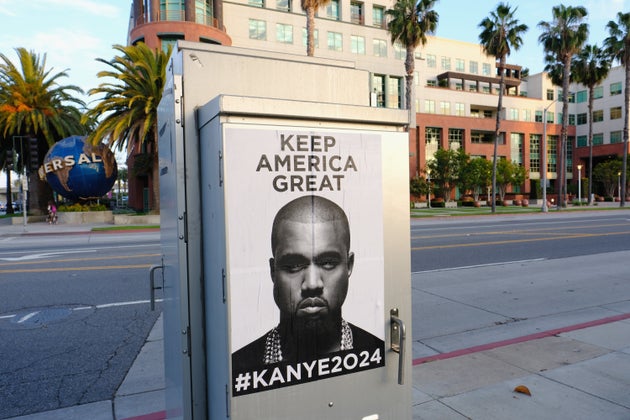 When it comes to issues of racism and the legacy of slavery, it has been natural (if not naïve) for me to assume that there is a shared understanding of the experience among fellow Black folk. But Kanye West's controversial comments on TMZ, citing 400 years of slavery as a 'choice' and the apparent silence from some Black Tory politicians over the Windrush scandal bring into sharp focus how affluence, power and privilege reign supreme.
The fallout from West's comments has been fascinating to witness. Many in the Black community have been vocal in 'disowning' him for negating the efforts of so many in the fight to end centuries of slavery. Others (Black and non-Black) have applauded him for his freedom of thought.
His poorly explained comment has stoked the fires for those that believe Black people use slavery as a prop for not owning up to their shortcomings. And because Kanye is Black and started out without wealth or privilege but has amassed both, his comments are viewed by his growing 'free-thinking' fan base as some sort of legitimate endorsement of a prevailing belief.
The same can be said across the pond when Kwasi Kwarteng, Tory MP for Spelthorne, did everything in his power to avoid condemning the Government for its handling of the Windrush scandal. Despite admitting in a Channel 4 news segment with Krishnan Guru-Murthy that if this had happened to his own mother – he would have been appalled, he struggled to defend the Government's actions.
An unlikely Tory spokesman – I thought. As Parliamentary Private Secretary to the Chancellor of the Exchequer, Kwarteng has no professional connection to the Home Office. But on a personal level, he dated former Home Secretary Amber Rudd and is the son of Ghanaian immigrants, who came to Britain as students during the Windrush era in the 1960s.
It was this latter connection that I thought would illicit an iota of moral outrage, empathy, integrity or honesty on Kwarteng's part. As the product of Ghanaian immigrants who came to England in the 1970s, I cannot forget the racial, economic and social struggles my parents endured to give me the life and opportunities I have today. Although I cannot speak for Kwarteng's, I am fairly sure his upbringing would have been shaped by similar experiences.
For me, it is his inability to defend the indefensible that speaks to a deeper issue where political ambition and a desire loyally back his party and hold on to privilege, command more currency than defending a powerless and voiceless community that he has a connection to.
Grime artist Marci Phonix articulated it well when he said Kwarteng's life was so far removed from those personally affected by the Windrush scandal that is was more like a job to him than a shared experience. But he is not alone. While the Labour camp (MPs David Lammy, Diane Abbott and Dawn Butler) have been decidedly vocal in their feelings towards the Windrush scandal and shouldered the barrage of criticism for their beliefs, the likes of Tory MPs Sam Gyimah, Adam Afriyie, and Kemi Badenoch have been rather silent.
Platforms of power
A recent BBC Radio 4 interview involving Tory MP Bim Afolami and Tory Peer Lord Cooper explored whether the Windrush scandal could have an adverse impact on the Tories ability to win over BAME voters. Lord Cooper highlighted that much of the Tory Party's legislative interventions have been to control and restrict immigration and this signalling to non-White voters has strengthened the perception that the party is not for them.
Afolami failed to address the Windrush scandal but instead believed negative rhetoric from the Brexit campaign had rather undone advances made under former PM David Cameron to change BAME perceptions of the party. Those positive strides, as he puts it, to increase BAME representation in the Tory party are all very well and good, but if those Black MPs are unwilling or unable to use their position to connect with communities that they share a racial or immigration heritage to, why would BAME voters feel they represent them?
Rather this messaging, in my view, signals to the wider public that the plight of the Windrush children cannot be that damning if people with political power that look like them aren't even willing to discuss it. And in much the same way that West's remarks have given oxygen for greater condemnation on talk on race and slavery, a failure by some Black Tory MPs to call out Government on this Windrush issue will only weaken efforts to rectify the problem.
West doesn't speak for us all and neither does Kwarteng. They may have been able to rise through the ranks of power and privilege on their genius but they did not do this in isolation. West is only here because his slave ancestors CHOSE not to give up and fought to live and provide something better for their descendents. West is only here because he's been buoyed by a fan base that believed in him and identified with his day-to-day struggle through his music. Similarly, Kwarteng's ability to school at Eton, Cambridge and then Harvard would not have happened if his immigrant family had not trodden the same path that those mired in this current Windrush scandal had. And yet for both these men, these personal struggles and experiences of so many hold less weight than the pursuit of affluence, power and privilege.
Source: huffingtonpost