Theresa May confronted Saudi Crown Prince Mohammed bin Salman over the "appalling" murder of journalist Jamal Khashoggi, during a meeting at the G20 Summit in Argentina.
The prime minister met with the prince behind closed doors with a Downing Street spokesman issuing a statement on their conversation shortly afterwards.
It read: "The Prime Minister stressed the importance of ensuring that those responsible for the appalling murder of Jamal Khashoggi are held to account, and that Saudi Arabia takes action to build confidence that such a deplorable incident could not happen again."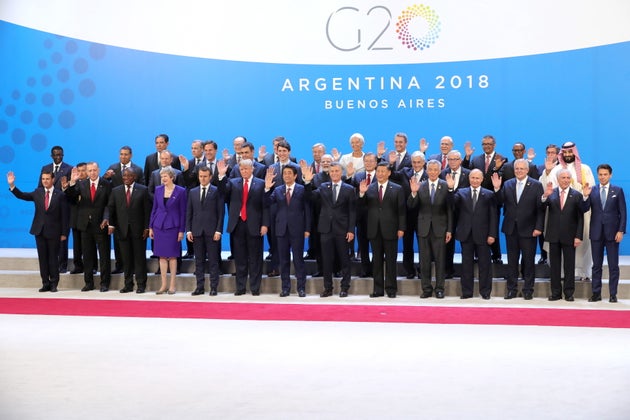 The spokesman added that May "encouraged the Crown Prince to ensure that Saudi Arabia co-operated fully with the Turkish authorities and worked to bring both investigations to an acceptable close".
"To ensure full accountability, there needed to be full transparency about exactly what had happened and who was responsible, in line with the commitments made by King Salman when she spoke to him on October 24," the statement continued.
May and Bin Salman also discussed the war in Yemen, with May setting out "the urgent need to bring an end to the conflict and bring relief to millions threatened by famine".
"The Prime Minister stressed that the humanitarian situation remained dire and reaffirmed UK commitment to making progress on improving the situation, including through a UN Security Council Resolution," the statement concluded.
"The Prime Minister reiterated UK support for Saudi Arabia's security, including the very real threats posed by Iranian interference in Yemen."
May's meeting with Bin Salman came after a tense moment between the prince and French President Emmanuel Macron.
In front of journalists and television cameras, Macron vented his concerns over the murder of Khashoggi, appearing to say "I am worried" during the awkward encounter.
Operatives with ties to the Crown Prince have been arrested over the killing, which took place in the Saudi consulate in Istanbul last month.
May also held talks with the summit's host, President Mauricio Macri, at which the long-standing dispute over the sovereignty of the Falklands took a back seat as discussions focused on trade.
May presented keen Queen fan Macri with a book about the rock band, while the Argentine president gave her a special cup for drinking national beverage Yerba Mate herbal tea.
May is the first Conservative prime minister to visit Argentina since the 1982 war, and only the second serving PM to do so, after Tony Blair briefly crossed the border from Brazil in 2001.
Source: huffingtonpost