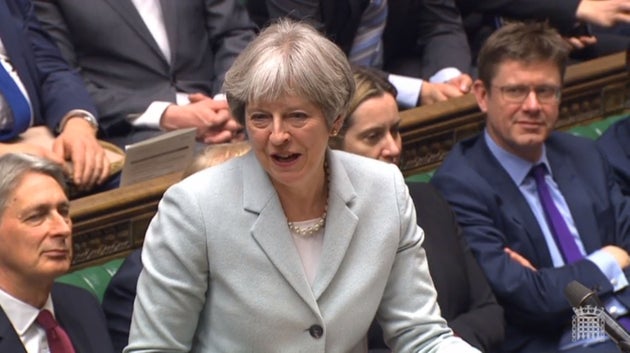 Theresa May has said the British government is examining the operation of the US-Canadian border as it seeks a solution to the Northern Ireland border problem.
Speaking to the Commons on Monday, the prime minister repeated her position there would be "no hard border" on the island of Ireland after Brexit.
"There are many examples of different arrangements for customs around the rest of the world, and indeed we are looking at those, including for example the border between the US and Canada," the prime minister said.
Shadow Brexit minister Jenny Chapman told MPs the border between Canada and America was not an example of the "soft frictionless border" that the prime minister has said she wants.
"There are guns and armed customs guards on that border. Surely that is not what she has in mind?" Chapman said.
Both the UK and EU have said they want to avoid a so-called hard border amid fears it could endanger the Good Friday Agreement.
Brussels has said Northern Ireland should effectively remain in a customs union and single market after Brexit to avoid border checks.
However May has flatly rejected that plan as it would create a border between Northern Ireland and the rest of the UK.
May told MPs today the government was looking at border arrangements "in a number of countries around the world" and that "innovative solutions" could be found.
The prime minister said it was wrong for Labour MPs to suggest the UK could "only adopt something if someone else is already doing it".
Several Canadian MPs had been in parliament to watch May address MPs on Monday.
Irish Prime Minister Leo Varadkar dismissed in 2017 the idea the US-Canada border could be a model for Northern Ireland after Brexit.
Simon Coveney, Ireland's deputy prime minister, yesterday warned he was "not sure that the European Union will be able to support" the UK's plan to avoid a hard border.
Boris Johnson has suggested the border between Northern Ireland and Ireland was comparable to the boundary between Camden and Westminster in London.
Source: huffingtonpost