Theresa May's Cabinet has spent the day in the north of England with a number of goals in mind.
Fanning Tory ministers out across traditional Labour heartland, their presence was in part to sell the Prime Minister's much-criticised Brexit vision.
But it also gave politicians the chance to leave the Westminster 'bubble' and witness how the country functions outside the capital.
It started promisingly, with Secretaries of State managing to get on and off the train to Newcastle.
And while in Gateshead, the PM held a Q&A with factory workers that was full of intrigue.
May revealed that one of her favourite pastimes is cooking because "you get to eat is as well as make it" - which is as true today as it's ever been - and that she also liked to watch "the American series NCIS" when she could find the time.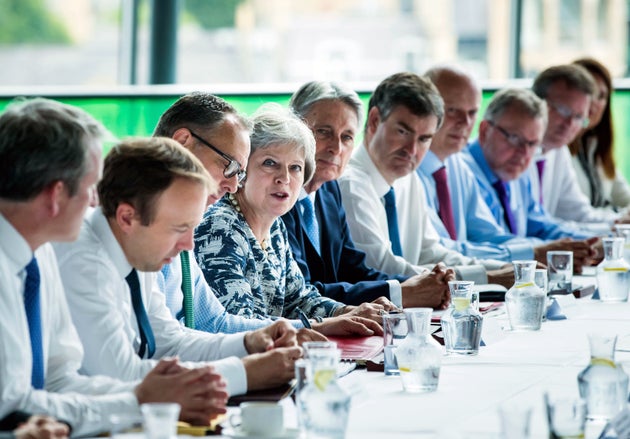 So far, so good. Until ...
With ministers making the schlep back to London, trouble loomed as some were reportedly caught up in major disruption caused by a fire next to the East Coast Main Line between York and Doncaster.
The National Rail website said on Monday evening: "A fire next to the track between York and Doncaster is causing major disruption to journeys between these stations.
"All lines are currently blocked. Trains may be cancelled or delayed by up to 60 minutes.
"Disruption will continue until the end of service."

The irony was not hard to spot ...
The Government has faced fierce criticism in recent months for the shambolic introduction of new timetables on Northern and Govia Thameslink, which has resulted in commuter misery for thousands of passengers.
Travellers on Northern and TransPennine Express services on routes in Lancashire, Cumbria and Greater Manchester have also been hit by disruption for months due to delays to improve the line between Manchester and Blackpool.
Long-suffering commuters explained to HuffPost UK how delays and cancellations were dramatically affecting their lives.
One Cabinet minister caught up in the delays was stoical, telling HuffPost: "Leaving somewhere can sometimes take longer and be more complicated than you expected....cracking on with my summer reading."
The Yorkshire Post reported how much-maligned Transport Secretary Chris Grayling was caught up the chaos.
Grayling has faced stinging criticism for his handling of the crisis, and rival politicians could not resist piling in on Monday.



Source: huffingtonpost