A rise in "smash-and-grab" raids on cash machines is being linked to shorter prison sentences for the offence, experts have told HuffPost UK.
Stealing a cash machine is classed as theft and not robbery, meaning offenders are more likely to get a lesser punishment than if they'd held up a bank or threatened staff.
Cash machines, or ATMs, have been a target since they first appeared on the high street in 1967, most often through devices that cloned cards when they were inserted.
But technological advances have made it more difficult for this technique to be effective, so criminal gangs are increasingly using a more direct "ram raid" approach that can net tens of thousands of pounds of instantly spendable cash.
So far this year there have been close to 460 attacks on ATMs across the country, with 60% of them occurring in the last three months alone, according to the British Security Industry Association (BSIA).
Last month, the Metropolitan Police warned that thieves were blowing up cash machines in potentially deadly explosions.
Almost 100 gas explosions targeting cash machines were recorded by police in England and Wales last year, including 23 carried out by a single gang that stole more than £1.5m in a three month spree across the Midlands.
Sarah Staff, head of Safercash, the BSIA's Home Office-backed initiative that shares intelligence on ATM crime with police and cash machine owners, confirmed there has been a surge attacks.
She said: "Our members have seen a really high spike in this level of crime and the losses are huge including the theft, building damage, loss of revenue for the company and impact to local communities."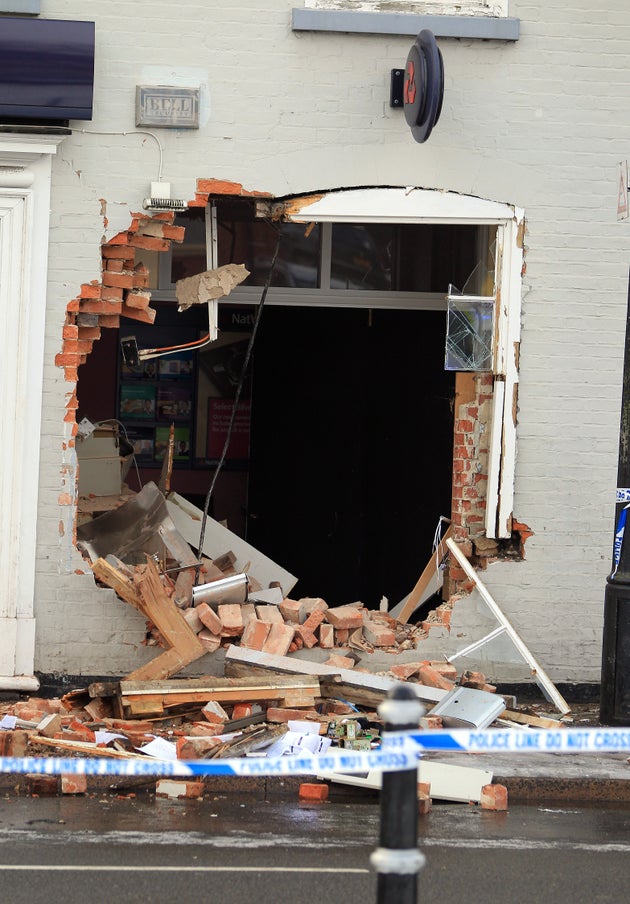 Security details surrounding cash machines are a closely guarded secret but HuffPost UK understands that a cash machine on a busy road may contain up to £40,000 on a Friday night, while the ATM on a village high street will likely hold less than £5,000 on any given day.
Experts believe cash machines are being targeted because of the more lenient tariffs they face. James Treadwell, professor of Criminology at Staffordshire University, explained that in the "traditional bank robber scenario" the raider would have to "take the risk of sourcing a firearm and then have the gumption to walk into a bank and threaten staff".
He added: "But ram-raiding an ATM means technically speaking you haven't even broken into a property because they are external protrusions even though they might be embedded in the wall.
"You might face a charge of aggravated theft but that's not going to mean as much jail time as an armed robbery."
Techniques involve using stolen JCBs or fork-lift trucks to ram-raid targets and make off with a whole cash machine to empty it later.
Treadwell continued: "I found that those involved in the high-end of ATM theft were serious criminals well-versed in the legal system.
"They would often have been tipped off about large ATM refills by corrupt bank staff or security guards and they will expertly use cutting equipment or even explosives to smash the machine open.
"The cash is then often used to plough back into criminality where cash is still king."
Dr John Bahadur Lamb, lecturer in Criminology and Security Studies at Birmingham City University, said today's cashless society makes it harder for criminals to get hold of useable hard currency.
He said: "One of the biggest problems ATM robbers face is disposing of the machine itself and that's why they will often use a fork-lift truck and use its forks to pierce the ATM in situ rather than having to take it away with them.
"The simple fact is that the chances are high they will have made a lot of noise and mess and in the process left a lot of forensic evidence."
The ATM industry is tight-lipped about the size and weight of an average machine but experts say that they can weigh 200-400 kilograms and measure 5ft by 2ft.
"In effect it is a bank safe stored inside a reinforced box," said Dr Bahadur Lamb.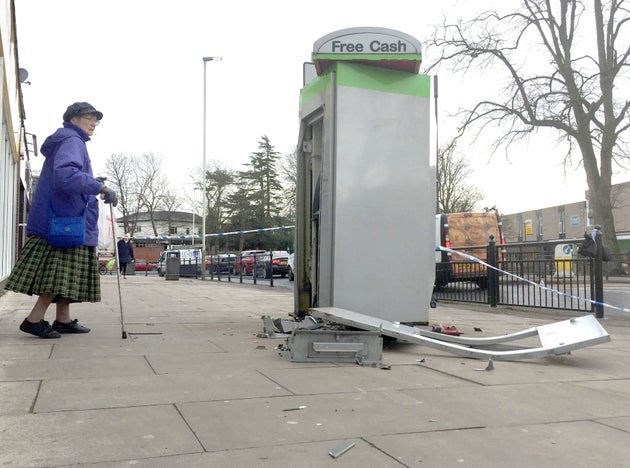 The bank and ATM industry are fighting back. ATMs today are more securely anchored and some contain sophisticated tracking devices and cameras or spray indelible ink onto the notes if the machine is disturbed.
Machines now are sometimes positioned inside bank lobbies behind reinforced glass making it difficult for a raider to access.
Ron Denlevo, European director of the ATM Industry Association, said banks were increasingly using a "just in time" system to refill machines as they run out of notes rather than making routine drops on fixed days.
He said: "An ATM typically has three walls or layers to it and even modern sonic wands that use sound waves to pierce tough materials are rendered useless.
"Some manufacturers are making machines out of exotic new materials that self-repair when punctured.
"Then there's the problem of disposing of a half-ton lump of reinforced steel after you've maybe spent hours or even days wrestling with it and therefore likely left a lot of forensic evidence on it.
"They're often just abandoned on quiet road sides or sometimes buried.
"All in all they are very secure and protected items that are hard to rob successfully."
Experts say that despite the recent spate of ATM ram raids across the country, it is a crime phenomenon that comes in waves.
Professor Treadwell said: "There's probably a gang of a few men who are committing these crimes and they will get eventually get caught and go to prison.
"You will find there will then be a long lull in such raids before another gang tries it luck."
Source: huffingtonpost