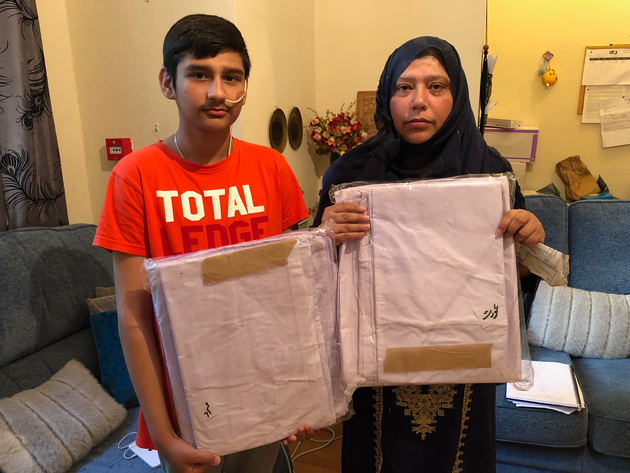 A terminally ill mother and her gravely ill teenage son are set to be deported back to Pakistan despite fleeing an abusive husband who has made threats to their lives since they move to the UK.
Home Office officials say they don't believe that terminal cancer sufferer, Iram Shahzadi, and her 15-year-old son, Muhammed Ali, face any danger if forced to return to Pakistan.
They dismissed her appeal for asylum, despite claims that her husband deliberately pushed their son down a staircase in Pakistan, tearing his kidneys and making him dependent on a dialysis machine, which he only has access to in the UK.
In a chilling development last month, Shahzadi claims her violent husband tracked her to her Birmingham home and posted two traditional Islamic funeral shrouds – one for a woman and the other for a child.
"He's basically sending us a message that we should get ready for death and that he's going to kill us if we ever return to Pakistan," said Shahzadi, who had a mastectomy after being diagnosed with breast cancer shortly after arriving in the UK with her son in 2013.
The 42-year-old's case has been taken up by Birmingham MP Shabana Mahmood, who said she was "stunned" that the government was insisting on deporting the desperate pair.
She said: "I am particularly concerned for her son Muhammed who needs continuous medical care, including dialysis, while he awaits a kidney transplant.
"Without this care, which he will not receive in Pakistan he will simply not survive.
"Both mother and son have been through considerable psychological distress as well as serious physical illnesses."
Iram Shazadi arrived in the UK from Lahore, Pakistan, five years ago fleeing years of abuse from her husband and to seek medical treatment for her son.
"When I got off the plane I felt freedom for the first time and was excited about starting a new life here," she said.
"I was eventually directed to the immigration centre in Croydon where I applied for political asylum and Muhammed was admitted into Evelina Children's hospital in London for his kidney treatment."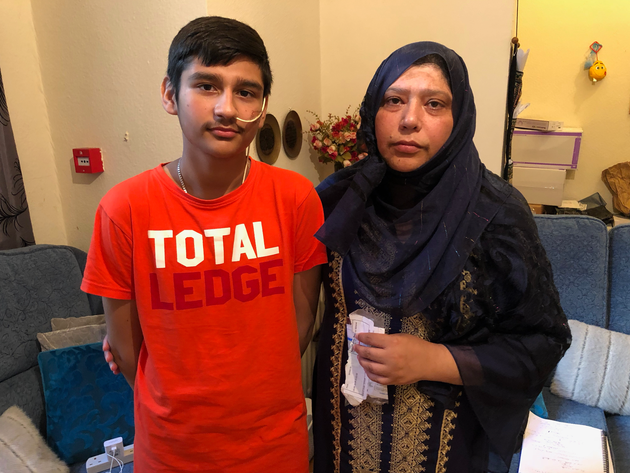 In a letter to the UK Border Agency, Muhammed's medical consultant, Dr Chris Reid, confirmed his patient suffered from a series of disorders including chronic kidney failure, abnormality of the bladder and "serious post-traumatic psychological disturbance relating to multiple medical procedures and serious domestic violence."
Reid added: "In my opinion his chances of surviving his medical problems into adolescence and adult life are poor if he returns to Pakistan.
"There is also I believe a genuine threat to his I(sic) and his mother's life from domestic violence."
Speaking at the modest council-owned flat in Birmingham, where the pair have lived since 2014, Muhammed smiled as he described how much he enjoyed his life in Britain.
Playing an online video game, the young Arsenal supporter, said: "I'm really enjoying school here and I've made a lot of good friends. I don't want to go back to Pakistan to die and I worry for my mother if that happened.
"Life here in the UK has been good and I feel at home here now. I enjoy school and want to become a solicitor so I can help people like my mother.
"We both want to spend our lives here and give something back to this country for saving our lives."
He added: "Going back to Pakistan will be like a death sentence for us both. I hated it there and never want to go back."
Shahzadi, who lives on £96.90 per week in benefits, said she is keen to work despite her cancer spreading to her bones and becoming inoperable.
She said: "Last week I was told the cancer had spread from my breast despite the mastectomy and into my bones and there's very little the doctors can do for me now.
"But all I'm concerned about is my son and his future. In Pakistan his father did not care about us and I am scared that he even knows where we live now.
"He sent us two white funeral shrouds in the post which is a sign that he wants us dead. I reported this to the police but they have done nothing about it."
Immigration solicitor Sanjeev Sharma said Shahzadi had exhausted all her appeals against deportation, and said he would now be calling for a judicial review of the Home Office decision.
He said: "The Home Office has three months from the date of refusal of Iram's application in June 2018 to remove her and Muhammed but I don't think they will be in a hurry to do that because of the nature of this case.
"They have effectively said they do not believe that she and Muhammed suffered abuse from her husband in Pakistan.
"She's been told she can apply for asylum again once she's been returned to Pakistan but that would be too late. She will never get the chance to leave that country again."
He added: "It's a very sad state of affairs and a clear example of how harsh the Home Office can be. For them its just a paper exercise and they forget these are real people with real problems."
A spokesman for the Home Office said: "Ms Shahzadi has had her application for asylum refused and has exhausted her routes to appeal," before adding "the UK has a proud history of granting asylum to those who need our protection and every case is assessed on its individual merits."
Source: huffingtonpost