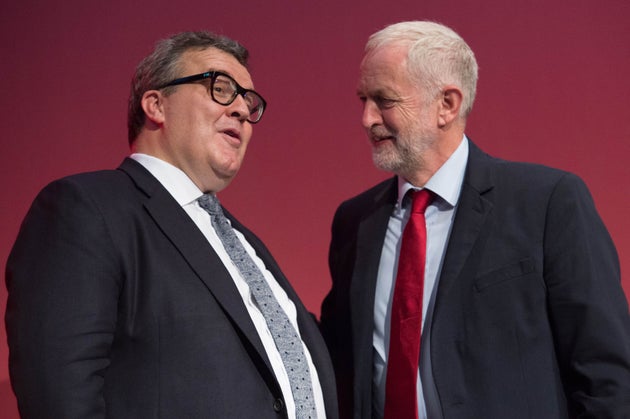 Bitter divisions within Labour ranks have been laid bare after Tom Watson was targeted by Jeremy Corbyn supporters who are demanding his resignation on social media.
The attacks have come after the party's deputy leader on Saturday hit out at Labour's handling of the anti-Semitism row, warning Labour could "disappear into a vortex of eternal shame and embarrassment".
He also called for an immediate end to disciplinary action against his colleagues Ian Austin and Dame Margaret Hodge, who both lost relatives in the Holocaust.
His comments appeared to prompt #resignwatson to start trending on Sunday evening as he was blasted for his perceived disloyalty to the leader.
It caused the MP for West Bromwich East to respond on social media.
The deputy Labour leader said: "It sometimes feels like people have been calling for me to stand down from day one but I never, ever thought I'd be facing demands to #resignwatson for standing up for people who are facing prejudice and hate."
He received support from a string of Labour MPs.
Wes Streeting, MP for Ilford North, said: "Imagine demanding the resignation of our Deputy Leader because he's called for meaningful action against racism. The absolute state of the#resignwatson cesspit and those who swim in it."
Walthamstow's Stella Creasy: "If you are calling for Tom Watson to resign because he's upset you wanting to tackle racism within the Labour Party so that it doesn't stop us winning an election or living our values as Labour, you've spent too long in the midday sunshine."
Bristol North West MP Darren Jones: "A sad day when the Labour Party behaves like this. How disappointing. I'm with Tom Watson."
Rosena Allin-Khan, MP for Tooting, said: "It's a sad day when our democratically elected deputy leader is being asked to resign after raising serious concerns about anti-Semitism in our party.
"We are a party that stands up for everyone with a proud history of fighting discrimination."
Supporters of Corbyn alleged Watson's comments, which he made in an interview with the Observer, came after a dispute with the leader's office over a speaking slot at the Labour Party conference.
Aaron Bastani, who runs left-wing website Novara Media, said: "I'm told by multiple sources that Tom Watson did interview attacking the leadership because he didn't get speaking slot he wanted at conference."
Earlier, Corbyn apologised for the hurt caused to Jews by anti-Semitism in Labour following stark warnings about the risk the row posed to the future of the party.
The Labour leader acknowledged there was an issue with anti-Semitism in the party and said people who denied that were "contributing to the problem".
He added: "People who use anti-Semitic poison need to understand: You do not do it in my name, or the name of my party. You are not our supporters."
His attempt to draw a line under the row began with a Guardian article which was branded "ill-timed and ill-conceived" by the Jewish Leadership Council and Board of Deputies after being published on Friday night as Jews observed the Sabbath.
The Labour leader had already apologised for sharing a platform with people who allegedly compared Israel to the Nazis.
Source: huffingtonpost