9 dead and 16 injured as pedestrians struck during lunch time.
5 in critical condition in hospital.
No motive known yet for driver who witness says steered van towards pavement.
A white Ryder rental van has killed nine people and injured 16 after ploughing into pedestrians on a busy, mile-long Toronto street in Canada's biggest city.
Toronto Deputy Chief Peter Yuen revealed the casualty toll as he confirmed the driver who mounted the curb in the vehicle had been arrested and was being held in custody.
"This is going to be a long investigation," Yuen told a news conference as the authorities remained tight-lipped about any motivation behind the tragedy.
The city's Sunnybrook Hospital said it was treating eight people after the incident at the Yonge Street and Finch Avenue area of the city, five of which were in a critical condition.
The van struck just before 1.30 pm - or 5.30pm UK time - as large crowds of office workers were on lunch breaks.
Some witnesses suggested the casualties were found in different locations as pictures from the scene showed bodies covered by tarpaulin.
It was not immediately clear if the incident was a deliberate act by the driver or a traffic mishap.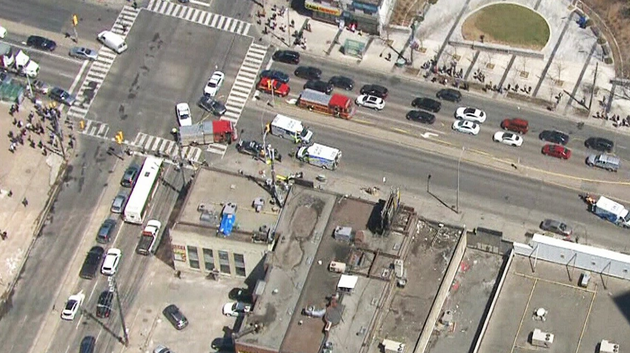 Canada's public safety minister, Ralph Goodale, declined to comment on what may have been the driver's motivation.
"The investigation is at a stage where no further information can be confirmed at this point," Goodale said.
"The police are conducting obviously their thorough investigation to determine what happened and why it happened, the motivations involved."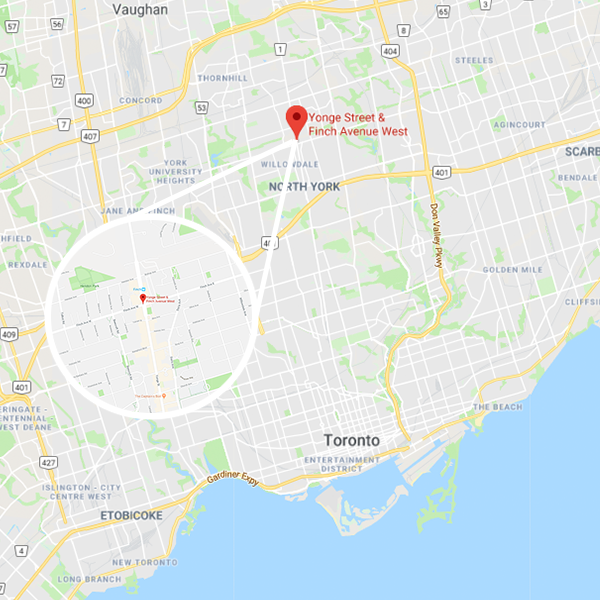 Video posted to social media showed desperate attempts to help those who appeared injured.
Aerial photos of the scene showed a food truck parked just a few feet away from where emergency workers busily transferred people onto stretchers.
At least one person was struck outside on the sidewalk outside an Anglican church, north of where the van came to rest in front of a currency exchange in a condominium tower.
John Flengas, acting superintendent in the city's paramedic services, said: "It's unprecedented. We've never seen anything like this in the city of Toronto."
The incident came as foreign ministers from G7 nations met in the Canadian city for talks.
Reuters reported that security around the hotel which is hosting several of the ministers had not noticeably changed.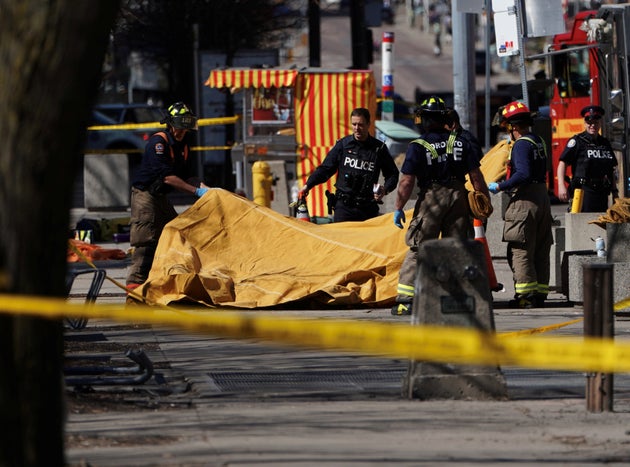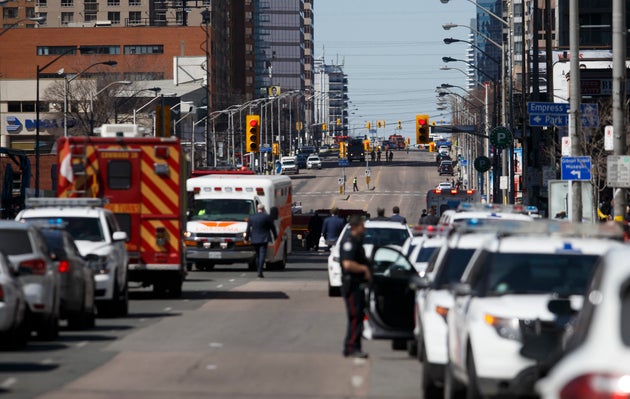 A man who gave his name as Ali told CNN he saw the van and that the driver appeared to have been targeting people.
"This person was intentionally doing this, he was killing everybody," the man said.
"He kept going, he kept going. People were getting hit, one after another."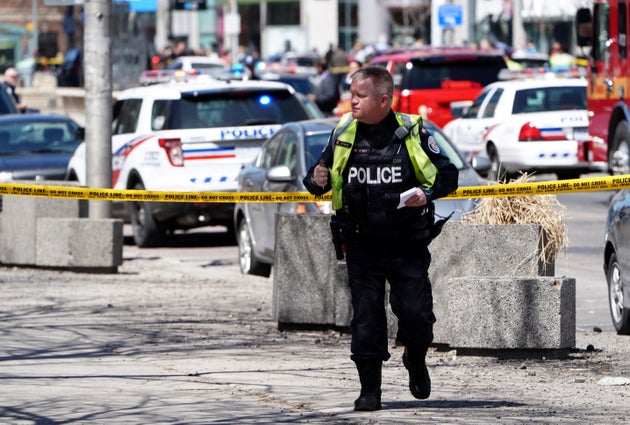 Canadian Prime Minister Justin Trudeau said officials were investigating.
Trudeau told reporters: "We're still gathering information and as soon as we can, we'll share more information with Canadians."
In a statement, Sunnybrook Hospital said: "Sunnybrook has received a total of 10 victims from the incident today at Yonge and Finch.
"Unfortunately, two patients arrived vital signs absent and were pronounced dead upon arrival.
"We currently have five people in critical condition, two in serious condition, one in fair condition."
The incident was one of the most violent in recent Canadian history.
A former Canadian university student last month pleaded guilty to killing six men praying in a Quebec City mosque in January 2017.
In September, a Somali refugee who was charged with attempted murder on allegations he ran down four pedestrians with a car and stabbed a police officer outside a sports stadium in Edmonton, Alberta.
This is a breaking news story and will be updated. Check back for the fullest version. Follow HuffPost UK on Twitter here, and on Facebook here.
Source: huffingtonpost