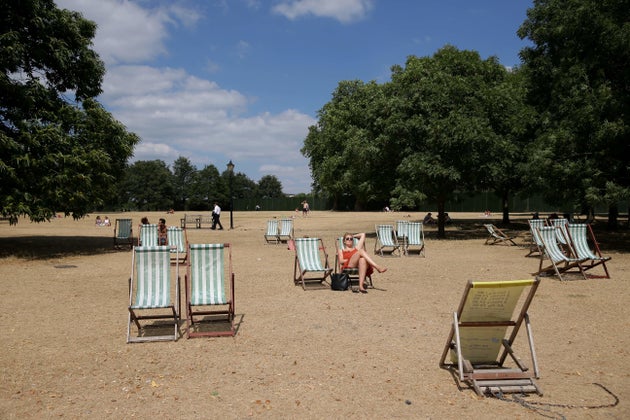 Temperatures are set to soar to a sizzling 36C this week, before thunderstorms, hail and strong winds take hold on Friday.
After weeks without rain, torrential downpours are forecast to hit parts of the UK, with as much as 30mm expected to fall in just an hour.
The Met Office has issued a thunderstorm warning from Friday afternoon, covering the north and east of England, potentially giving some respite from the long run of hot weather.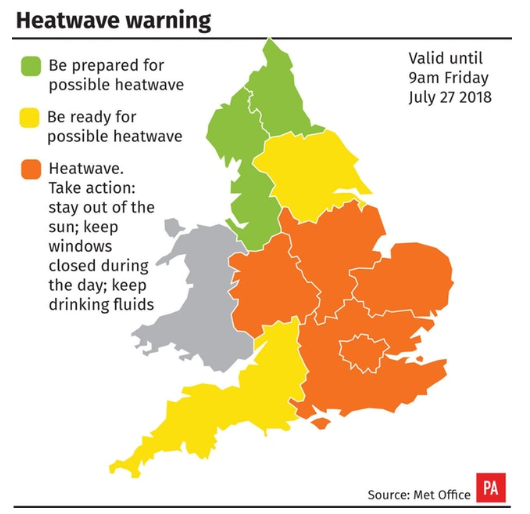 There is a chance East Anglia will see some thunderstorms on Wednesday, the Met Office added, while temperatures are likely to peak in the mid-30s on Thursday and Friday.
The heatwave baking Britain comes as extreme hot weather grips northern Europe.
An amber "heat health watch" warning remains in place for parts of England, with people being warned to try to stay out of the sun between 11am and 3pm.
Nurses have warned that some hospital wards have reached more than 30C, leading to patients and relatives passing out or vomiting.
The Society of Acute Medicine has also raised concerns about patients and staff in overheated hospitals.
Dr Nick Scriven, the society's president, said while most hospitals are designed to keep patients warm all year round, they can become too hot in such high temperatures.
The Royal College of Nursing raised concerns that some nurses are unable to keep properly hydrated during their shifts as they are not allowed to take water bottles on to wards.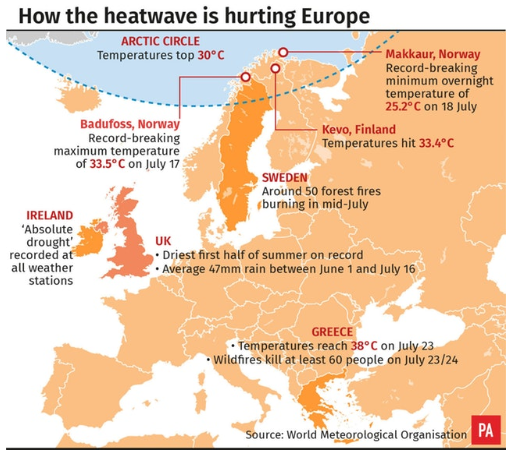 The Local Government Association said social workers, community wardens and maintenance staff are all on high alert to identify those who could be struggling in the heat.
And pet owners have been urged to avoid exercising their dogs and other animals in the hottest parts of the day due to the risk of burnt paws on scorching pavements, as well as the chance of heatstroke.
UK homes and cities need to be prepared for a future of more heatwaves as temperatures rise, the Government's climate advisers have warned.
The Committee on Climate Change has repeated its call for new standards on heat risks for new homes, while action is also needed to keep existing houses cool and create more green space in cities to prevent urban overheating, it said.
And as the harvest begins early in many places following the driest first half of summer on record, farming leaders warned crops such as spring barley and sugar beet are being hit.
They added that reservoirs for watering vegetables were running dry and livestock owners were having to use winter feed for their animals as summer grass had withered away.
National Farmers' Union deputy president Guy Smith also urged people to take care in the countryside, warning that portable barbecues and sky lanterns posed a huge fire risk.
Weather extremes including record temperatures, heatwaves and drought are being seen across the northern hemisphere in the first half of summer, hitting health and agriculture and causing dangerous wildfires.
Experts have warned climate change was "loading the dice towards extreme weather," with rising global temperatures fuelling heatwaves.
An intense heatwave hit Japan, with record highs of 41.1C in Kumagaya and 40.8C in Oume, both near Tokyo, on Monday, as the country struggles to recover from its worst flooding and landslide disasters in decades.
In Europe, a second Climate Watch advisory was issued for July 19 to August 6 covering an area from Ireland to the Baltic States and Scandinavia, with temperatures as much as 10C above average in some places in the first week.
The soaring temperatures in northern Europe are accompanied by drought and a risk of local thunderstorms, wildfires and harvest losses, the World Meteorological Organisation (WMO) said.
The UK has seen the driest half of summer on record, with just 47mm of rain between June 1 and July 16.
The Met Office said several places have had 54 consecutive dry days, starting on May 30, including a few which have had less than 1mm of rain in the entire 54-day period – the longest spell since 1969, when 70 days passed with no significant rainfall.
The longest run of days with no rain at all this summer so far is 48 days at Brooms Barn, near Bury St Edmunds, since June 5.
The prolonged warm, dry weather is caused by an area of high pressure sitting to the west of Britain, leaving the country basking under cloudless skies.
While England could see the all-time July record of 36.7C broken this week, conditions are much nearer normal in Northern Ireland and western Scotland, which are seeing lower temperatures and rainy spells.
Professor Peter Stott, Met Office science fellow in attribution, said global temperature rises were fuelling heatwaves, and climate models had been predicting an increase in extremely hot spells for more than a decade.
"It's coming true before our eyes," he said.
He said the chances of having so many heatwaves across the globe this summer "must be really low" without climate change.
"We are loading the dice towards extreme weather," he said.
Source: huffingtonpost