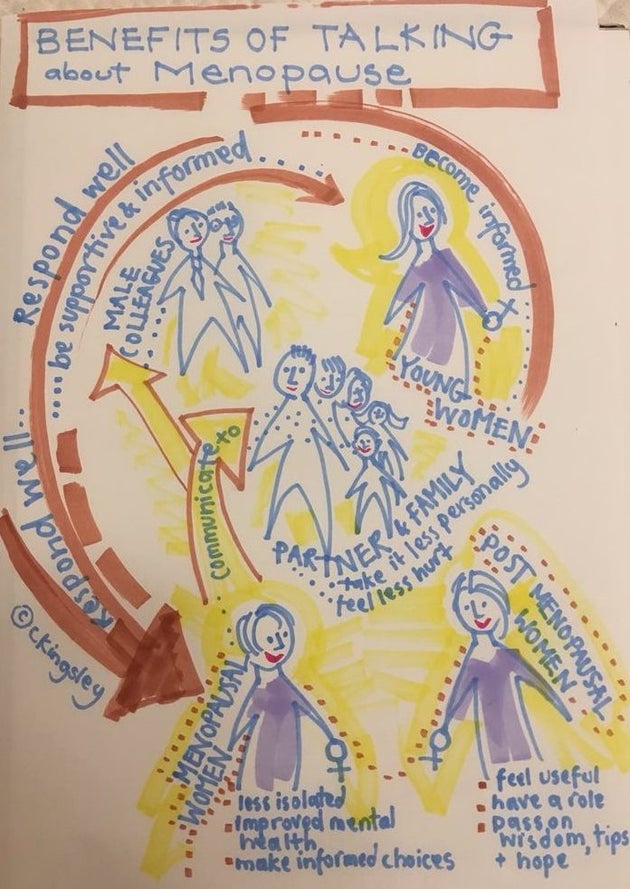 "Hugely positive, solidarity, support, tips. Brilliant, thanks so much."
"So helpful to talk to others - women at all different stages of life. Helped to see the positive side of this time of my life - and the future!"
A group of people sat together and talked about the menopause. Is that so unusual? Yes!
As Mrs Franklin might have said "Nothing can be said to be certain, except death and menopause", yet we hardly ever speak about the menopause. All women experience it, but very few know what to expect, and even fewer of their family, friends or colleagues know anything about its impact.
There are millions of women who are experiencing the menopause, yet workplaces are not equipped to support them. Not all women need support, but many do. A BBC survey found that 70% of women do not make their employer aware that they are experiencing symptoms, despite 41% saying it affects their job. Organisations are in danger of losing some of their most experienced, wise women without realising the true reason, or what we, as employers, can do to retain them.
Last year one of my employee's migraines increased in both frequency and severity. She didn't know why her usual coping strategies weren't helping. I'd read that migraines can increase during the menopause and peri-menopause and wondered whether that could perhaps be a factor. She hadn't realised the two could be connected, but our conversation gave her confidence to approach her GP again, to book a physiotherapy appointment and to take conscious breaks from screen-work. It took several months, but symptoms are now abating, and she has hope knowing that there is a reason and this too will pass. As an employer, I am glad I was informed enough to suggest the possible link with menopause and that my employee was comfortable enough discussing that possibility.
If you were a menopausal woman, how confident would you feel discussing the impact of your menopause with your younger, male manager? Especially if you hadn't even talked about it with your partner or your friends.
The impact of silence and ignorance about the menopause in relationships can be devastating. Some women avoid sex due to vaginal dryness, which can lead to avoiding any form of physical intimacy. Without communication, partners may feel rejected, unattractive and unwanted. Add to this the possible mood swings of anger, depression and anxiety and who knows how many divorces and relationship break-ups could be prevented by talking about the menopause and its physical and emotional effects.
Last year, aged 51, I watched Kirsty Wark's BBC documentary 'Menopause and me' and realised that I was the average age for menopause for women in the UK. As a former Girl Guide I like to be prepared, but I knew nothing about menopause except that my periods would stop and I might experience hot flushes. These were the only symptoms I had heard other women talking about, usually to comic effect. I read up on the raft of different possible effects, physical and emotional - dry skin, anxiety, loss of confidence, restless legs, vaginal dryness, depression, insomnia. But I also wanted to hear stories from women who were going through the menopause, and especially from those who had come out the other side. What were the plus points? What had they learnt? How did they make sense of their new identity as older women, without feeling "past it"?
That's why Menopause Café started in June 2017: a pop-up event where men and women, old and young, came to talk about the menopause. So far the benefits seem to be:
Sharing information, tips, experiences and stories about menopause
Men and younger women learning about the menopause, by listening to those experiencing it.
Easing the isolation of menopausal women and helping them realise what they are experiencing is normal, thus improving their mental wellbeing.
Giving people confidence to speak about menopause outwith Menopause Cafe, at work and home, improving relationships and work performance and retention.
The aim is to increase awareness of the menopause on those experiencing it, their friends, colleagues and families so that we can make conscious choices about this third stage of life.
This had lead to conversations beyond the menopause, to the role of older women in society, to the joys of no longer caring so much about what other people think, to having time to think about "I want" as opposed to "I must", and many other useful and interesting conversations. I now feel better prepared for my own menopause, and to accommodate my colleagues and support my friends through theirs. As one Menopause Cafe participant wrote:
Just a thank you for tonight to all the ladies who came listened, talked, laughed and shared. Without sounding mushy I am actually very grateful for my menopause right now, this cafe you have started has given me back my confidence and laughter.
Source: huffingtonpost